Some easy steps of making a dolls house out of a cardboard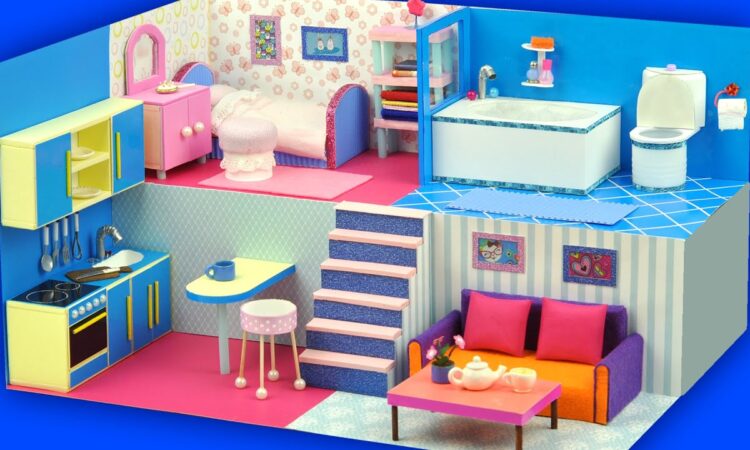 Finding some ways to house all the dolls of your toddler? The readymade doll's house is too expensive and is no fun. They don't allow you to make rooms as you please. But, simple cardboard can come to your rescue. So, if you are keen to make a toy house of your own, read this article to know more.
Steps to make a doll's house from a cardboard
Here are some small, easy steps regarding how to make a toy house out of cardboard. 
Materials required
One large cardboard box and some smaller boxes will be used in building rooms. Glue, acrylic paint, and left-overs from wrapping papers are also required to make the toy house. 
Step 1
First, paint the large box all white. In this way, you will get a clear background on which you can put other colors. 
Step 2
Put six small boxes serving as six rooms using two cardboard pieces. Then, mark the doors and perform a clean scalpel cut. After that, slightly glue the two pieces having a tiny top and bottom fold. 
Step 3
After that, you have two cardboard pieces that are going across. The first of them is the bathroom. Then mark a slight halfway cut on the card and doored wall and then fix them with glue. After that, attach them to the wall. Do the same thing for the opposite side as well. In this way, you can make the bedroom and the bathroom floors. You can also put some supports like coffee stirrers under the balcony to straighten the entire thing. 
Step 4
Your toy house should also not miss out on an attic. You can make a clean cut on the center wall for this section of the house and then slot it to the topmost portion. After this, secure the roof cardboard piece with glue for fixing it to the house wall. 
Now you have laid the basic structure of your doll's house, and here comes the creative part of coloring and decorating it. 
Step 5
You can apply wrapping papers to the walls. Making a bookshelf is a good idea. For that, you need to have some front cover images, which you can easily take a printout.
Step 6
Then, next comes the floors. Wooden planks are the best suitable and aesthetic flooring style for real-life houses, and a doll's house is no exception. So, you can cut out some wooden printouts and affix that on the floor. 
Step 7
If you want to make the doll's house colorful, you can add rainbow colors to the doors. Or, keep it brown. In this way, your doll's house will appear a bit naturalistic. 
Step 8
The last step is to add some nice little furniture. Make some space in the bedroom and add a table and a chair along with the bed. You can also add a little table lamp if you are too edgy about details. Add some kitchen crockeries and bathing materials in the kitchen and bathroom, respectively. A bathtub and a toilet might look good.
Final Thoughts  
So, in this way, you can make your very own toy house with cardboard. You can follow other methods or stick to this one and make your dream house a reality.