Awesome ways to surprise your partner with an engagement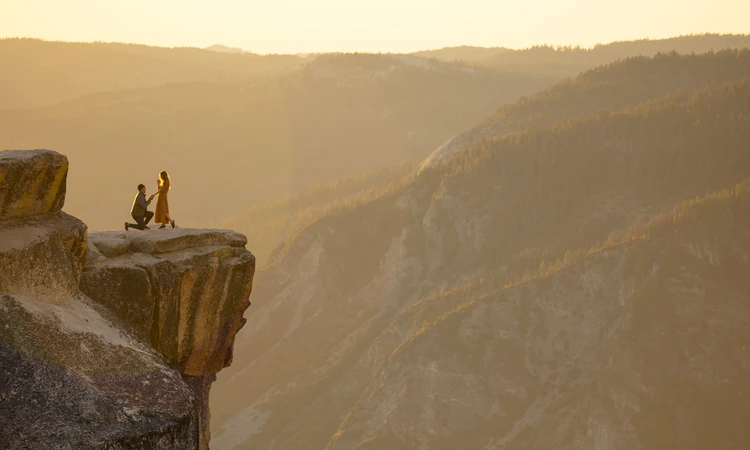 Planning a proposal is so much fun. Organizing the different parts of the plan, buying the ring – it's always so fulfilling to do something for your partner. One of the best parts is keeping the secret. It almost becomes a game, trying to plan something under your partner's nose. The payoff, of course, is the massive surprise you get to greet your partner with when you finally get down on one knee!
With so many ways to pop the question, how can you take the surprise to the next level? The first step is to surprise your partner with one of our amazing Valentina engagement rings. The second step is to make your proposal as awesome as possible!
Here are some awesome ways to surprise your partner with an engagement.
What goes up…
Must come down. Taking to the skies is a tried and tested method for proposing – especially in a hot air balloon. Why not mix it up and propose while sky diving? Not only will you be taking your partner on a once in a lifetime experience, but you'll also be asking them a once in a lifetime question! Make sure you're certain of their feelings toward heights before you proceed with this plan.
X Marks the Spot
Scavenger hunts or treasure are one of the best ways to plan a personalized and exciting proposal. You could have clues that lead your partner to milestone locations from your relationship, or hints that are based on their interests – like their favorite films, books or songs. You could incorporate local landmarks or even get friends or family to help with the fun!
Tip: Don't make it too hard though, you want to ask them the big question after all.
In Transit
Destination proposals are a timeless way to pop the question. However, some partners might catch on sooner than you'd like. Romantic holidays have a funny way of putting these things to the forefront of one's mind. To throw your partner off the scent, why not propose on the flight? That way you can celebrate the entire trip, instead of dodging questions the entire time. Plus, you can pop some bubbly in flight and celebrate sky high!
View from the Top
Hiking somewhere with a view is a great way to have an intimate and memorable proposal. Choose a spot that's familiar if you'd lie to be sentimental, or choose an unknown spot where you can make a new memory together. Make sure you pack some snacks and don't forget the ring! Fingers crossed that your partner will be too tired to notice that you're up to something!
Don't be afraid to take your proposal to the next level! There's nothing wrong with trying to make your engagement as memorable, and awesome, as possible.